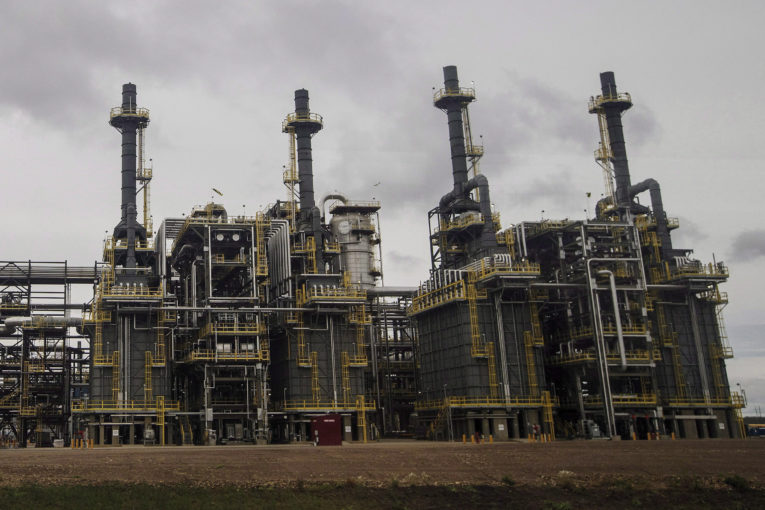 CALGARY – Fresh off a ribbon-cutting ceremony to open the $17-billion Fort Hills oilsands project, Vancouver-based Teck Resources Ltd. is advancing its next major oilsands investment.
Teck CEO Don Lindsay was in Fort McMurray earlier this month to officially open the 194,000-barrels-per-day Fort Hills oilsands mine, in which his company has a 21.3-per cent stake alongside partners Suncor Energy Inc. and Paris-based Total SA, which have 54.1 per cent and 24.6 per cent ownership of the project, respectively.
Now, the copper and coal-mining giant is set to kick off a regulatory review of an even larger oilsands operation.
Beginning Tuesday, Teck will have a team in Fort McMurray for a five-week, joint-review panel regulatory hearing by Canadian Environmental Assessment Agency and Alberta Energy Regulator into its wholly owned 260,000-bpd Frontier oilsands mine — a massive greenfield project north of Fort Hills.
But it could be a financial stretch for the company. Frontier carries an estimated $20-billion price tag, which would make the project slightly more expensive than Teck's own market capitalization of $18 billion.
Teck has indicated it wants to proceed with the project once it has regulatory approvals and aims to start producing oil from an 85,000-bpd first phase in 2026, followed by a second phase 10 years later.
Analysts have speculated that the company could find a partner to finance Frontier's massive capital costs, especially since Teck has sought partners for other mining projects after guiding those projects through the regulatory process. For example, it is currently seeking a partner for the $4.8-billion second phase of its recently approved Quebrada Blanca copper mine in Chile.
"Our current focus is on successfully advancing Frontier through the regulatory review process," Teck spokesperson Chris Stannell said in an email.
"Any further decision around the project will depend on factors including the outcome of that process, market conditions and other considerations," he said. "This would include looking at partnership options. We have experience in partnerships to successfully develop oilsands project through our involvement in the recently completed Fort Hills oilsands project, and this is clearly a strong option for advancing such projects."
Given the current regulatory timeline, the company is currently tracking toward a final investment decision on Frontier by the middle of 2019, CIBC World Markets analyst Oscar Cabrera said in a research note.
Teck recently hosted Cabrera and other financial analysts at the Fort Hills oilsands project to demonstrate the production ramp up and touted its ability to proceed with another oilsands project.
"We had a positive impression of the Fort Hills operation and it can become a key cash flow generator within Teck's portfolio," RBC Capital Markets analyst Stephen Walker said in a research note.
Teck is also marketing its own oil production from Fort Hills and has secured pipeline capacity to send 20 per cent of its barrels to refineries in the U.S. Gulf Coast, which is home the largest concentration of heavy oil refineries in the world.
"Clearly, additional pipeline capacity would benefit Teck and other producers in the area," Walker said.
Ahead of this week's regulatory hearings, Teck has been consulting with First Nations in the area to avoid the pitfalls of previous projects which have been opposed by some Indigenous groups.
Last week, the company inked an agreement with the nearby Athabasca Chipewyan First Nation, which had requested Canadian Environmental Assessment Agency conduct parts of the hearing in its community.
"We have had positive negotiations with Teck, and we believe that we have an agreement that respects our treaty right, and use innovative approaches to mitigate the impacts on our land, waters and wildlife," Chief Allan Adam said in a release, which described the agreement as "a turning point" for the First Nation's ability to determine it's own future.
• Email: [email protected] | Twitter: geoffreymorgan
You can read more of the news on source