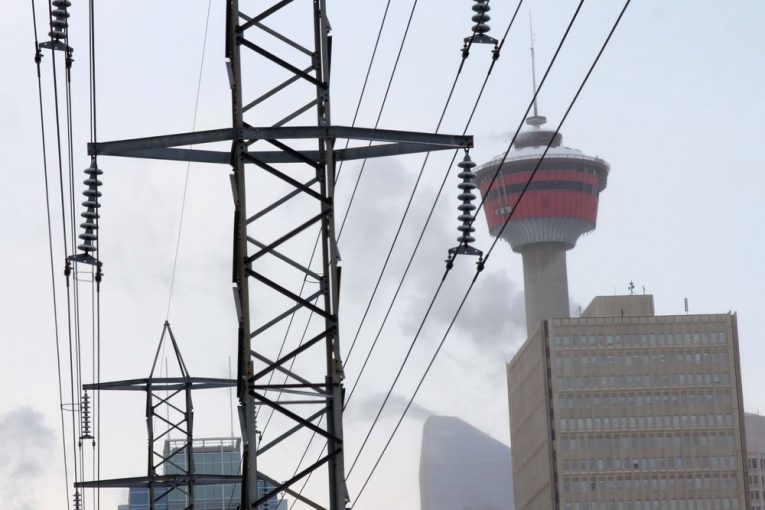 An arm's-length government agency is now a massive player in Alberta's power market, raising new fears that its growing presence will scare away investment and potentially drive up costs for consumers.
The Balancing Pool, which manages power contracts, now oversees 4,000 megawatts of electricity after several companies walked away from money-losing deals. This represents a quarter of all the power that can be generated in Alberta.
A fresh report by a Calgary consulting firm says the government-created Balancing Pool holds an "unfair advantage" because it can "absorb losses and simply pass them on to consumers."
"In my opinion, this distorts the structure of the market in a way that makes 'fair' competition illusory," according to the report, prepared by Aidan Hollis, who runs a consultancy, for the Balancing Pool's board and obtained by Postmedia through an access to information request.
"No reasonable firm wishes to compete against a firm that can continuously operate a money-losing plant using subsidies from government or consumers."
The report suggests this so-called distortion has major implications for the Notley government's grand plans to transform the electricity market, replacing coal-fired generators with greener sources, such as natural gas and renewables, though the province doesn't expect any problems.
The agency that oversees the province's grid estimates it will cost up to $25 billion in the next 14 years to replace coal plants, hit the government's targets for new renewable power generation and meet future customer demand.
Related
Varcoe: Another puzzler in power contract mess that could save Albertans $209M
Varcoe: Balancing Pool's bid to save $500M in PPA mess could trigger higher power prices
Facing $2.6B in losses, why hasn't Balancing Pool cancelled PPAs?
Meanwhile, Hollis's report states that if the Balancing Pool retains its giant foothold in the power market and continues recent moves of operating at a loss, then it "depresses prices and sends an artificial signal to other firms not to enter the market and to exit the market."
The imbalance in the market took shape after the Alberta government hiked the carbon levy on industrial greenhouse gas emitters, including coal-fired power plants.
Companies that were buying power from coal facilities and selling it to the open market were already suffering from historically low electricity prices.
After the levy hike, they invoked a clause in their power purchase arrangements that allowed them to walk away if a change in law made their deals unprofitable or more unprofitable.
These deals ended up in the lap of the Balancing Pool, which is now saddled with roughly 25 per cent of Alberta's power generating capacity.
The agency has the option to cancel these agreements, which means it would pay out the remaining book value of the contracts to the power generators. The Balancing Pool's board has moved to cancel some, but not others.
Robert Bhatia, the group's chairman, said "we don't think it's healthy" to occupy such a large role in the power market and considers the size of its foothold when it decides what to do with these electricity deals.
"We do consider the impact on the market," he said.
Hollis, an economics professor at the University of Calgary who has studied electricity market restructuring, said the Balancing Pool has a duty to cancel the power purchase arrangements in which the losses of operating them would be greater than ending them.
"In the long run, if the (Balancing Pool) operates non-commercially in order to drive price down, the province will face higher, not lower costs," the report says.
"Investors will perceive that Alberta is not a safe place to invest and will demand a higher return on capital to make investments.
"The effects on a (new) power market will be entirely negative, as investors will require higher capacity payments to make up for perceived instability of the spot market."
The NDP government, however, sees things differently.
In a statement, the government said the new power market will not be fully in place until 2021, while the power purchase arrangements (PPAs) now held by the Balancing Pool will expire a year earlier.
Citing these factors, "and the Balancing Pool's mandate to manage the PPAs in a commercial manner," the government concludes "the current status of the PPAs will not impact the successful development of a cost-effective (power) market."
Evan Bahry, executive director of a group that represents Alberta power generators, raised doubts that recent moves affecting the province's electricity market are driving up investor confidence.
"Investors are definitely following what's going on now," said Bahry, of the Independent Power Producers Society of Alberta, whose members supply most of the province's electricity.
Bahry said if investors backing new or improved power plants seek a higher return due to perceived uncertainty, consumers could pay more.
He said the Balancing Pool wields major influence over power prices due to its large presence in the market and has kept prices artificially low because it's operating at a loss. He said it's hurting his members.
"We're seeing depressed market prices and that's affecting the recovery of investment that generators have made," he said.
"How will they perceive investing in the future, especially when you think that an agency of the government is able to affect market prices and do so for some time?"
You can read more of the news on source