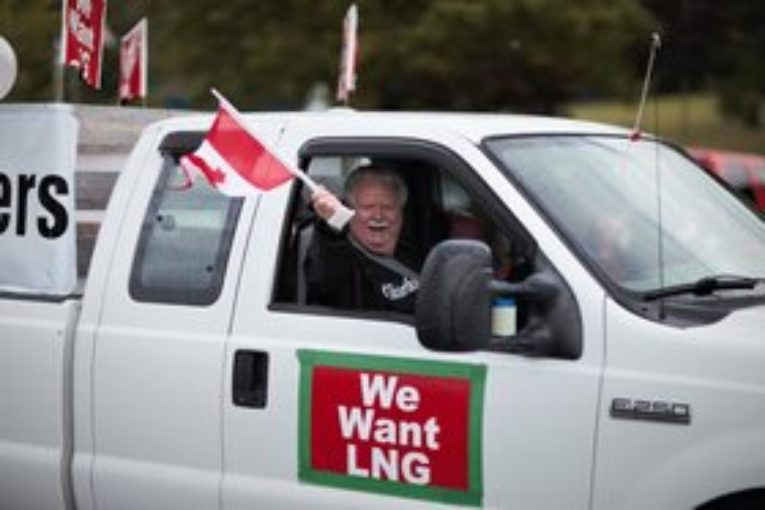 A flurry of activity in a remote Canadian town is raising optimism that Royal Dutch Shell Plc and its partners are ready to go ahead with the nation's largest infrastructure project: a C$40 billion LNG terminal that could at last unlock energy exports to Asia.
The action is unmistakable in Kitimat, British Columbia, the Pacific coast city hugging a deep inlet that would be the closest launch point on the continent for LNG cargoes to Asia.
The lights are on, shades open and SUVs parked outside a 49-unit apartment complex built to house Shell executives, which sat mostly darkened for the last two years. Local workers have left jobs at a Rio Tinto Plc smelter nearby to join contractors ramping up for the LNG project.
Landlords are raising rents and houses are selling twice as fast as they used to in anticipation of a flood of workers coming to town.
"I would put money on it — it's going ahead," says Phil Germuth, mayor of Kitimat, who recently hosted a banker from Barclays Bank Plc visiting from the U.K. to examine the project. Germuth also met a group of officials reporting to the board of Mitsubishi Corp., one of the project's five partners, who visited the site in May.
When Crystal Smith, head of the Haisla Nation whose indigenous lands surround the proposed terminal, was invited to the project site last week by another group from Mitsubishi, she couldn't find a spot in the usually deserted parking lot.
"Who gets excited to see a full parking lot? I got goose bumps from seeing it full," she said. While she's met officials in the past as the leader of a community whose consent is integral to the project, she recounts "this meeting was a little different." There was no agenda. "They just wanted to meet — in the sense that they're very optimistic we're going to be together for the next 40, 50 years."
LNG Canada, as the project is called, is stunning in scale. It proposes to eventually ship as much as 28 million tons a year out of Kitimat, the equivalent of 10 percent of global LNG supply in 2017. It would carve out a new path — the shortest by days — between North America and Asia for super-chilled gas. For Canada, whose energy exports are sold almost exclusively to the U.S. at depressed prices for the lack of a coastal facility, it means unlocking the Montney, a massive formation holding about half the total reserves of Qatar. It would also mean an investment triple the size of Canada's largest single infrastructure project to date, LNG Canada Chief Executive Officer Andy Calitz said in a LinkedIn post last month.
LNG Canada — comprised of Shell, Mitsubishi, Malaysia's Petroliam Nasional Bhd., PetroChina Co. and Korea Gas Corp. — expects to make a final investment decision by the end of the year. An exact date is up to the partners to make, Susannah Pierce, spokeswoman for LNG Canada, said in an email.
The project's backers twice-postponed the decision in recent years amid a global supply glut. That outlook has turned. Energy producers from Shell to Total SA to Anadarko Petroleum Corp. are looking again at projects deemed too risky just a year ago as demand picks up faster than expected.
"Goodbye gas glut," Sanford C. Bernstein & Co. analysts said in a June 28 note. New supplies of LNG are "being easily mopped up by rampant market growth." While only one major LNG project gained approval last year, in the next 18 months some $150 billion worth of LNG ventures have a better-than-even chance of going ahead, according to Energy Aspects Ltd. Meanwhile, prices in Asia — the biggest market for the fuel — are rebounding.
Calgary-based Stream Asset Financial Management said this week it believes a positive final investment decision "is effectively a done deal" and will be announced earlier than expected, likely in the second or third week of September. National Bank of Canada analyst Greg Colman believes "the probability is weighted towards a positive decision." His team, using Google Earth, has spotted old storage tanks being cleared from the site, a barge installing piles to expand the pier, and preparatory work for the massive camps that would host thousands of workers.
Terrace Mayor Carol Leclerc, whose city 60 kilometers (38 miles) to the north serves as the region's hub, says she's "99.9 percent" sure the project will move forward, citing the flurry of activity. "It's going to be like a tidal wave coming into the northwest."
The clock is ticking. British Columbia has set a Nov. 30 deadline for a final decision if the project is to claim as much as C$6 billion in tax breaks and savings. Meanwhile, in recent weeks both LNG Canada and TransCanada Corp., which would build the 670-kilometer pipeline to supply the terminal, have selected their main contractors to lock in prices for the project.
Graham Pitzel, a Re/Max real estate broker in Kitimat, says he's getting calls nearly every day from people in Vancouver, Edmonton, Calgary and Toronto interested in purchasing properties in the town of 8,000 people, speculating prices will surge as the project takes off. Homes used to stay on the market for six months; now the average is half that. He says bungalows never fetched more than C$200,000 earlier, but he's just sold one for C$260,000 and has an offer of C$290,000 on another.
"I'm building a house because if you try to do it after the project's going, it's going to be hard to find a contractor," Pitzel says. "It's now or never."
Hurdles remain. The federal government has yet to clarify whether it'll grant the project an exemption from duties on the complex steel modules needed to build a terminal. Each LNG model can be as tall as a 10-story building and weigh as much as 10 jumbo jets — no Canadian assembly yard has the experience or space to build them along with the water access to ship them to site, according to David Keane, president of the BC LNG Alliance. The federal finance ministry didn't respond to a request seeking comment.
"We are confident in our position that large, complex LNG modules cannot be made in Canada, and therefore should not be subject goods," LNG Canada's Pierce said.
Canada can hardly afford to let another major energy investment flame out. Former British Columbia Premier Christy Clark once boasted that more than 20 LNG projects would be built in the province, yet none has gone ahead.
In May, Prime Minister Justin Trudeau's administration had to buy Kinder Morgan Inc.'s Trans Mountain oil pipeline system for C$4.5 billion to ensure the controversial expansion gets built amid fierce local opposition. While LNG Canada has the support of the provincial government, the proposed TransCanada pipeline route runs near one group of indigenous opponents in northern B.C. pledging to block the project.
Still, indigenous and municipal officials say Shell has painstakingly cultivated on-the-ground support and is unlikely to face local opposition. The plant will have the lowest carbon emissions in the world per ton of LNG produced, according to the provincial government. To address fears of pipeline leaks, it hired an energy consultant to lug a vat of chilled gas to local schools, pouring LNG onto the floor to demonstrate how quickly it evaporates into thin air. Amid a national outpouring of grief over a deadly April bus accident involving a junior hockey team from Saskatchewan, Shell donated a new bus with seat belts to a high school in Kitimat.
"If there were a blueprint of how to approach any kind of major industrial project, especially in oil and gas, LNG Canada is one to learn from," says the Haisla Nation's Smith.
© 2018 Bloomberg L.P
You can read more of the news on source