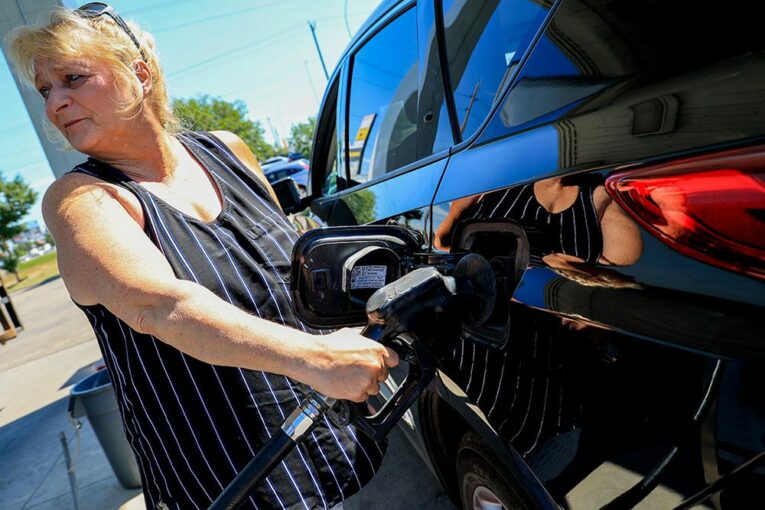 Gas prices in Calgary are dropping as retailers' profit margins appear to be shrinking in the volatile market.
We apologize, but this video has failed to load.
Try refreshing your browser, or
tap here to see other videos from our team.
Gas prices in Calgary dropping; most of tax break being passed on, says economist
Back to video
Trevor Tombe, an economist out of the University of Calgary, said the average cost of fuel in Calgary on Tuesday was around 172 cents per litre, down about 20 cents from a high of 192 cents per litre earlier in July.
"Oil prices have been falling recently, that's one important factor, but also interestingly that kind of uptick in the margins that we saw, I guess over the past little while is starting to ease," said Tombe. "The retail margin in the city is 34 cents a litre, down from 42 late last week."
The provincial government has attempted to curb sky-high fuel prices amid high inflation rates, removing its 13-cents-a-litre tax. However, analysis from Tombe last week showed that nearly all of that relief measure was being eaten up by high retail margins, with Alberta retailers bringing in nearly twice that of their counterparts in other parts of the country.
Those high margins led Premier Jason Kenney to release a statement Friday saying he was going to ask the Competition Bureau of Canada to investigate potential price fixing, and he asked Service Alberta to investigate if there were any tools at their disposal under the Consumer Protection Act in relation to the matter.
"Over the last 10 days, the gas price advantage Albertans have enjoyed relative to other provinces has disappeared and it now appears Albertans are no longer benefiting from the tax cut," Kenney said in his Friday statement. "As I said when we announced this measure in March, we won't accept any games being played with this."
Paul Hamnett, press secretary for Finance Minister Jason Nixon, said Wednesday the government will continue to monitor prices to ensure savings are being passed on to consumers.
"We have spoken with producers and retailers, and we are pleased to see a reduction in prices at the pumps, rightfully making Alberta the cheapest place in the country to get gas," said Hamnett. 
More On This Topic
Expert doubtful competition bureau would find price-fixing in Alberta's high gas prices

'We won't accept any games': Kenney wants competition bureau to probe Alberta's high gas prices
Tombe said that as of Wednesday morning it appeared that about 10 cents out of the total 13-cents-a-litre tax saving was being passed on to consumers. He also said he doesn't put any weight into assertions that greed or a lack of competition amid retailers was resulting in consumers not benefiting from the tax cut, stating there are many factors that go into price margins and that it is a highly volatile market.
"It's a market, it's a competitive one. Retail stations, they know that drivers have alternatives and they're going to price accordingly," said Tombe. "If there are Alberta-specific cost increases for the market as a whole, that's going to drive those margins."
Tombe said he is unsure what market factors specifically were behind the high retail margins but pointed to ethanol supply chain issues in Alberta as one example that may have had an influence.
As for the downturn in the market this week, Tombe said recent interest rate hikes and fears over a looming recession could be influencing the market.
"I think Canada and the United States may avoid any kind of meaningful recession, but I guess we will see," said Tombe.
You can read more of the news on source