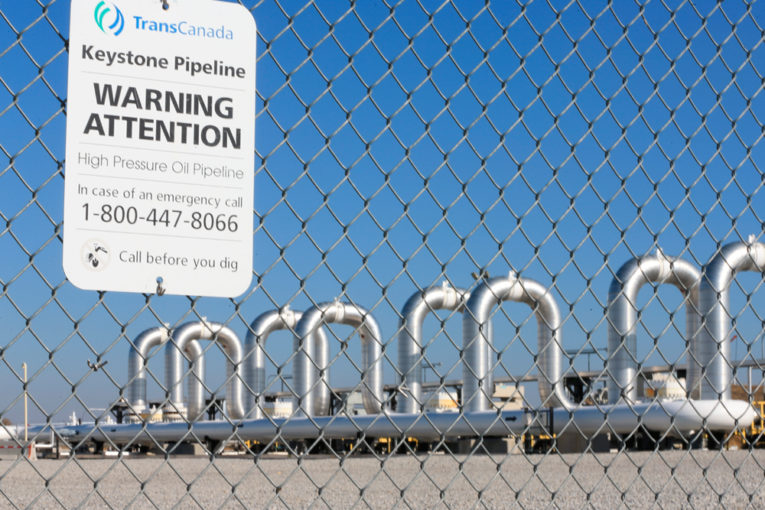 CALGARY – TransCanada Corp. said it remains committed to its long-delayed, often-challenged $10-billion Keystone XL pipeline Friday even after a U.S. federal judge blocked the project.
United States District Court Judge Brian Morris issued an injunction Thursday preventing either Calgary-based TransCanada or the U.S. federal government "from engaging in any activity in furtherance of the construction or operation" of the Keystone XL pipeline.
Morris' ruling said the U.S. State Department's analysis "fell short of a 'hard look'" at potential spills, likely impact on Native American cultural resources, cumulative emissions from Keystone XL and other oilsands pipelines and how a change in oil prices would affect the viability of the pipeline.
Analysts say the decision could cause a delay of up to one year for Keystone XL, which was first proposed 10 years ago.
Former TransCanada executive Dennis McConaghy, who has written a book on the Keystone XL pipeline saga, said the Calgary-based pipeline giant had successfully re-contracted all the available space on the pipeline, which should sufficiently satisfy the court of the viability of the pipeline.
Noting that former U.S. president Barack Obama had appointed Morris to the court, McConaghy said opponents of the pipeline had "shopped (the case) as best they could to find a pliant federal court judge who had some nexus to the project."
Obama rejected Keystone XL before leaving office.
McConaghy said that, most likely, "TransCanada has been working steadily through the night with the Trump administration to decide what they're going to tactically do."
U.S. President Donald Trump, who approved a revived Keystone XL through an executive order in 2017, blasted the decision Friday. "It was a political decision made by a judge. I think it's a disgrace," he told reporters at the White House.
TransCanada did not indicate how it would proceed on Friday but the ruling is a blow to the company's plans to begin construction early next year. TransCanada had been staging pipes and clearing vegetation along the route in Canada and the U.S.
"We have received the judge's ruling and continue to review it. We remain committed to building this important energy infrastructure project," the company said in an emailed statement.
It was a political decision made by a judge. I think it's a disgrace

U.S. President Donald Trump
Legal experts believe TransCanada has three avenues for the project. The State Department could try to address the deficiencies the judge indicated in the ruling, appeal the decision to a higher court, or Congress could try to pass a law enabling the project's construction.
Each of those options have problems of their own, said Fred Jauss, a Washington, D.C.-based partner with Dorsey & Whitney LLP.
"The most likely outcome is they'll take a two-track approach here and they will file an appeal up to the (San Francisco-based) Ninth Circuit, which has not been friendly ground for the Trump administration," Jauss said. "Simultaneously, the State Department will start work on a revised environmental analysis."
He said it could take several months before the State Department is able to issue a new environmental impact statement, putting a timeline for a decision "well into 2019."
Alternatively, Republicans could try to pass a law through both houses of Congress to rubber stamp the project, but they'd need to do it before the House of Representatives switches to Democratic control in the New Year.
"They've only got just about two months to be able to get something through – that's a very low probability, but it is a possibility," Jauss said.
Trump could also either file an appeal or direct the State Department to conduct a new study, said Zachary Rogers, analyst at Wood Mackenzie.
"We see the potential delay of this project being between eight months and a year – and that could push the (in-service date for the) line back to the middle half of 2022," Rogers said.
"This really underscored the painful year that Western Canadian producers are having and it's really a function of the lack of infrastructure," Rogers said of the ruling, which exacerbates Canada's pipeline pinch that has led to record-setting US$50-per barrel discounts for Canadian crude.
The ruling in Montana against Keystone XL is "eerily similar" to the Federal Court of Appeals ruling against the Trans Mountain pipeline, according to Chris Bloomer, Canadian Energy Pipelines Association president and CEO.
"These things are turning on what seem to be pretty narrow issues and they're pretty similar on both sides of the border. We characterize it as yet another wake up call as to how fragile and how vulnerable Canada is to not having infrastructure built to move its energy to market," Bloomer said.
TransCanada would likely provide more information on how it will deal with Thursday's court ruling at its investor day presentation next week, according to Chris Cox, analyst at Raymond James.
"An important dynamic here is whether the company remains committed to pursuing the project in light of ongoing regulatory delays, especially as we believe there is a strong desire to substantially complete the project before the next U.S. presidential election," Cox said.
Tom Goldtooth, executive director of the Indigenous Environmental Network, which was one of the plaintiffs asking for the injunction, said his group felt vindicated by the ruling.
"Trump's approval of this pipeline was illegal, violated environmental laws and was based upon fake facts."
Canadian oil stocks traded lower on Friday following the decision and as oil prices entered bear market territory, with shares in the country's five largest oil producers falling between one to three per cent, and TransCanada shares slipping 1.42 per cent to $51.46.
• Email: [email protected] | Twitter: geoffreymorgan
You can read more of the news on source