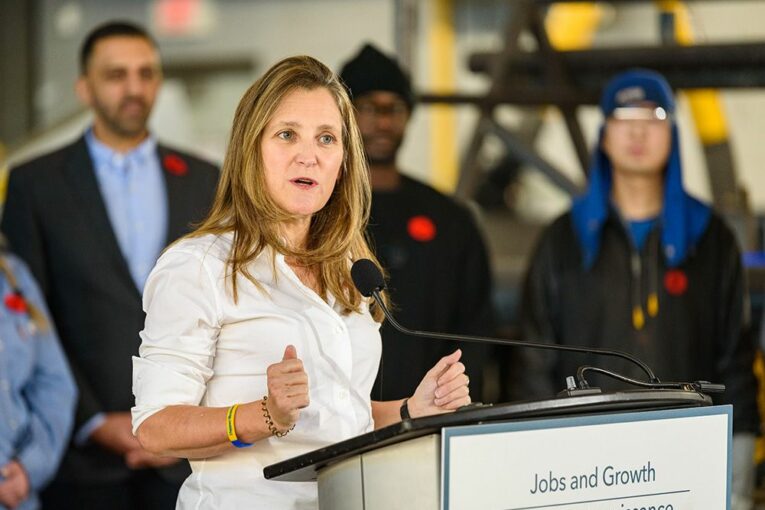 Deputy Prime Minister Chrystia Freeland said she believes in Alberta and what the province represents and is prepared to work with members of government, including Finance Minister Travis Toews.
We apologize, but this video has failed to load.
Try refreshing your browser, or
tap here to see other videos from our team.
Freeland not budging on Premier Smith's demands to end carbon tax
Back to video
She also called on a Team Canada approach on Wednesday with the provinces, despite Premier Danielle Smith prioritizing the introduction of a Sovereignty Act and promises to stand up to Ottawa throughout her leadership campaign and since taking office.
Smith crystallized those views further in a letter to Prime Minister Justin Trudeau on Wednesday, calling for the elimination of the carbon tax and pausing federal fuel taxes to immediately address inflation concerns. On these points, Freeland was not willing to budge.
"It's one of the most economically effective mechanisms for taking climate action," she said, while pointing to past support for a carbon tax from Preston Manning, who has since spoken out against the carbon tax.
Recommended from Editorial
Liberals working on policies to ensure carbon tax remains in place

Freeland unveils tax credits for investment in clean technology and hydrogen

Canada will fast-track energy and mining projects important to allies: Freeland
Freeland made her comments after touring the International Brotherhood of Boilermakers office in southeast Calgary to promote a program announced during her fall economic update last week for funding apprenticeship programs through unions.
In her letter to Trudeau, Smith noted the struggle many Albertans are experiencing to feed their families, pay rent and utilities and getting to work. She called on the federal government to immediately address the affordability crisis.
Inflation sits at 6.9 per cent in Canada and 6.2 per cent in Alberta and has been driven by many factors, including external forces like supply chain issues, weather events, the war in Ukraine and labour shortages. These factors have driven the price of commodities like oil, gasoline, wheat and canola through the roof.
The Bank of Canada has responded by increasing its overnight rate targets by 350 basis points since March 2 to 3.75 per cent, causing further affordability issues. Many economists are predicting a small national recession in the first two quarters of 2023.
"The longer-term solution to this affordability crisis involves the federal government changing course to actively promote and deliver the world with more affordable, reliable and responsibly produced energy and food," Smith wrote. "Current federal energy and agricultural policies are having the opposite effect."
When pressed on her relationship with Albertans and, in particular, the new premier's push to stand up to Ottawa, Freeland made a measured response in pointing to how much she loved her home province.
"I, therefore, really believe that my job, the federal government's job is to do everything we can to roll up our sleeves and to work with the people of Alberta."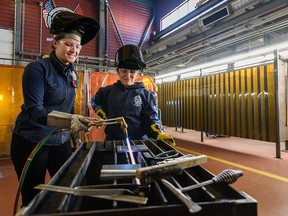 When asked to characterize her relationship with Smith, Freeland said she is willing to meet with her, but the premier's direct counterpart is Trudeau. She also declined to comment specifically on the potential of a Sovereignty Act, adding the federal government will look at any new legislation tabled before responding.
Freeland was to speak with the Calgary Chamber of Commerce later on Wednesday.
The deputy prime minister was also asked about her opinion of the current public inquiry into the use of the Emergencies Act, which the federal government rolled out to break up the blockades in Ottawa, Windsor, Ont., and Coutts, Alta.
Federal and provincial governments, as well as law enforcement, have been criticized for their handling of the protests. Comments by Coutts Mayor Jim Willett were brought forward in the inquiry slamming officials for underestimating the protests and saying his residents were besieged by "domestic terrorists."
Freeland said the use of the Emergencies Act was not done so lightly.
"What Canada faced at the beginning of this year, actually, was a very serious challenge and threat to our national security and economic security," she said.
"The degree to which that threat was unprecedented, I think, is measured in the fact that our government needed to invoke the Emergencies Act to bring the blockades to an end and to guarantee Canada's national security. So it was a very big deal. I hope and believe it is the kind of thing that happens only once in a generation, if that. I'm glad we brought it to an end."
Twitter: @JoshAldrich03
You can read more of the news on source