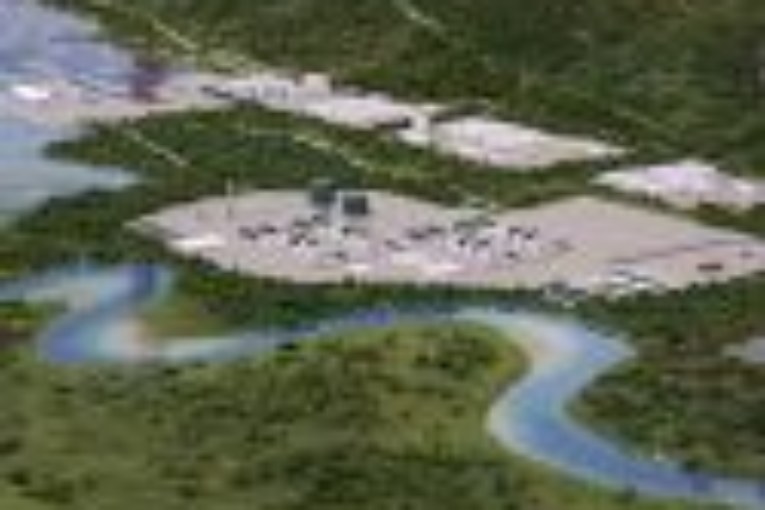 CALGARY – Canada's proposed LNG projects are expected to be more cost competitive than U.S. projects in delivering boatloads of super-cooled natural gas to Asian markets when they are finally built, according to the Canadian Energy Research Institute.
CERI president and CEO Allan Fogwill says that proposed LNG facilities on Canada's West Coast are capable of delivering the commodity to northern Asian markets for roughly $1 per million cubic feet less than their American competitors, to as low as US$7.54 per mmbtu, compared with US$8.40 for American LNG projects.
The cost advantage comes partly from Canada's closer proximity to Asia, Fogwill told a business audience Wednesday.
Additional advantages have arisen as Beijing and Washington D.C. escalate their tariff war on each other's products. China slapped 10 per cent tariffs on LNG imports from the U.S. on Tuesday as a trade war escalates between the two countries.
China is currently the world's third-largest importer of LNG but the country's current five-year plan calls for rapidly increasing the use of natural gas in its energy mix. As a result, China is on pace to surpass South Korea and Japan to become the largest market for LNG in the world in the next few years.
"In the 12 months up until June 2018, China was the second-largest buyer of U.S. LNG, accounting for approximately three (million tonnes per year), with (Royal Dutch) Shell being the largest seller," Wood Mackenzie research director Giles Farrer said in a note following the tariff implementation.
He said that Chinese buyers have reduced purchases of LNG from the U.S. over the summer months as U.S. President Donald Trump hit the country with tariffs and China responded with tariffs of its own.
The latest Chinese tariff target – LNG – could affect the development of new U.S. natural gas export projects.
"It restricts the target market for developers of new U.S. LNG projects trying to sign new long-term contracts," Farrer said. "However, there is still plenty of appetite for second-wave U.S. LNG projects from other buyers in Asia and Europe, as evidenced by recent contracting momentum at Freeport, Calcasieu Pass and Sabine Pass Train 6."
Meanwhile, Canadian LNG proponents have yet to proceed with any large-scale developments, though Pieridae Energy Ltd., Woodfibre LNG and Shell Canada-led LNG Canada are all expected to decide on their projects before the end of this year.
FortisBC shipped the first-ever batch of Canadian LNG to China in November 2017. Since then, the company has sent additional smaller shipments of the commodity to Asian markets via its LNG facility outside Vancouver.
Shell's LNG Canada project could, on its own, "fix" depressed Canadian domestic natural gas markets, Stream Asset Financial principal and chief market strategist Dan Tsubouchi said in an energy outlook presentation on Tuesday.
If the government of Canada wants to see projects go ahead, they need to address every single barrier in the way

Ken Hughes, former Alberta energy minister
TransCanada Corp. announced last week it had signed agreements with every elected First Nations band along the route of the pipeline from B.C.'s gas fields to the LNG Canada project, which analysts consider another sign the project is close to moving forward.
Tsubouchi said he's also optimistic that the project will proceed in part because of China's aggressive push to reduce its reliance on coal-fired power by increasing its use of natural gas, which has caused a major structural change in the global LNG market.
"China needs to increase its natural gas imports by almost three bcfd per year for the next decade. So to put that into perspective, that's equivalent to five Cheniere LNG trains every year or the four-train LNG Canada development every year," Tsubouchi said.
However, project delays and outright cancellations have led to mounting frustrations within the domestic energy sector.
Ken Hughes, former Alberta energy minister, says Canada can take advantage of the surging LNG demand.
"If the government of Canada wants to see projects go ahead, they need to address every single barrier in the way, including regulatory and tariffs and legislative barriers that currently exist," Hughes said, adding that "Canada needs to get its act together."
• Email: [email protected] | Twitter: geoffreymorgan
Sources say process has been bumpy, but company insists concerns over massive B.C. facility are overblown
Michel Girard: Canada is not yet playing a meaningful role in setting new digital technologies standards — government and business need to help
In their 40s, Luis and Martha also have mortgages totalling $435,605 owing on two properties
Robert Kokonis, president of AirTrav, speaks about Boeing's strategy going forward following the Ethiopian Airlines crash
You can read more of the news on source