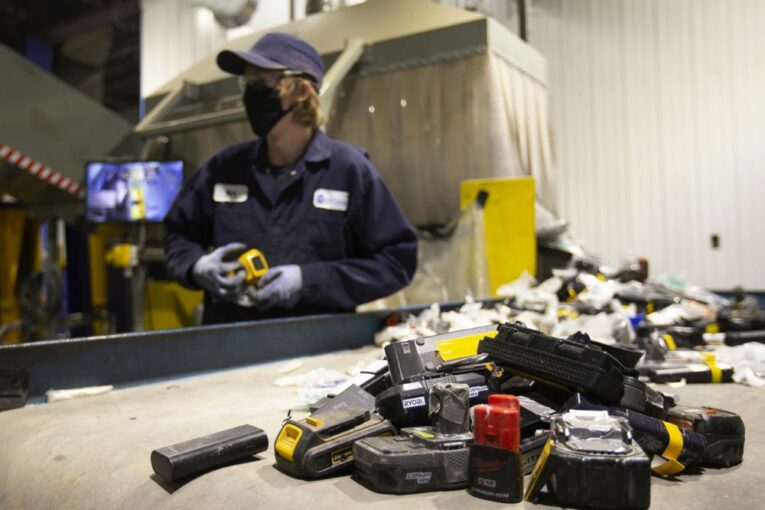 Toronto-based Li-Cycle Holdings Corp. announced Wednesday it is building new battery recycling facilities in Norway, Germany and Ohio, as it continues to expand faster than it anticipated.
The facility in Norway, one of the most mature electric vehicle markets, will collect old and defective lithium-ion batteries for shredding, and is expected to begin operating in early 2023 and will give the company a foothold in the European market.
The rise of battery manufacturing in North America — where a raft of new facilities are under construction or planned — is providing a growing amount of feedstock for recyclers such as Li-Cycle, which in turn are playing a role in the EV supply chain.
"We've definitely accelerated our plans in terms of building out capacity," said Kunal Phalpher, chief strategy officer for Li-Cycle. "Some of these (battery manufacturing) companies didn't even exist or have a product when we started working on this, so the growth has been immense."
Last year, Li-Cycle completed a special-purpose acquisition company (SPAC) merger that resulted in a New York Stock Exchange listing and US$527 million in proceeds, and it struck separate partnerships with Koch Industries and LG Chem and LG Energy Solution that together added about US$150 million in investment.
Also last year, the company announced plans to build three "spoke" facilities in North America, each capable of collecting and shredding 5,000 tonnes of old batteries into what is known as "black mass," as well as a hub to refine those materials into cobalt, lithium and nickel for future use in batteries. It is far ahead of schedule on all counts.
Today, it is operating spokes in Kingston, Ont., and Rochester, N.Y., and building another three, each capable of processing 10,000 tonnes of battery material, in Alabama, Arizona and Norway. In addition, it has up-sized the capacity of its hub in Rochester by 40 per cent, with the facility expected to come online in 2023.
We see Li-Cycle as an execution story, and a derivative play on the shift to EVs

Jeffrey Osborne
"We see Li-Cycle as an execution story, and a derivative play on the shift to EVs," Jeffrey Osborne, an analyst at Cowen and Company wrote in a note last month.
Osborne wrote that the company has a "first-mover advantage" in the fast-growing world of battery recycling, but it must continue its breakneck pace of expansion: his base case assumes Li-Cycle will open 20 spokes and four hubs by 2024.
At the same time, he predicted there could be growing pains, including cost overruns on building facilities, higher-than-expected operating costs or lower-than-expected pricing on the products it sells.
Li-Cycle reports its fourth quarter earnings on Thursday, and Osborne modelled about US$4.7 million in revenue for the period, up from just US$1.7 million last quarter.
But the company's guidance still may be less importance than its execution given its early stage of development: Next month, a new chief financial officer starts, and Osborne noted there have been other leadership changes as the company plots a "global roll-out strategy."
Some partnerships are aimed at helping it through the growth period. Koch, the U.S. industrial conglomerate, purchased a US$100-million convertible note from Li-Cycle last year, and is also designing and constructing modular equipment that the company can use to rapidly build out spoke facilities around the world.
For now, Phalper said the facility in Norway will collect material from around Europe, which will be shipped to its hub in Rochester.
Meanwhile, competition in the battery recycling sector continues to intensify. Last week Toronto-based Electra Battery Materials Corp., formerly First Cobalt Corp., announced a tentative agreement to source black mass from the Japanese conglomerate Marubeni Corp., which it plans to refine at facility in northern Ontario.
Tesla co-founder J.B. Straubel is also aiming to recycle lithium-ion batteries at Nevada-based Redwood Materials, which he now leads.
The market is also expected to evolve. Phalper said there aren't that many electric vehicles in North America yet, and estimated that as much as 30 per cent of the batteries produced at newly opened factories are defective. For now, that's providing feedstock for Li-Cycle and other recyclers, but eventually that number is expected to decline.
"With the consistent addition of more manufacturing, there's going to be more demand for recycling," he said. "That's why more groups are trying to move into this space — there's enormous opportunity and really high growth."
• Email: [email protected] | Twitter: GabeFriedz
You can read more of the news on source