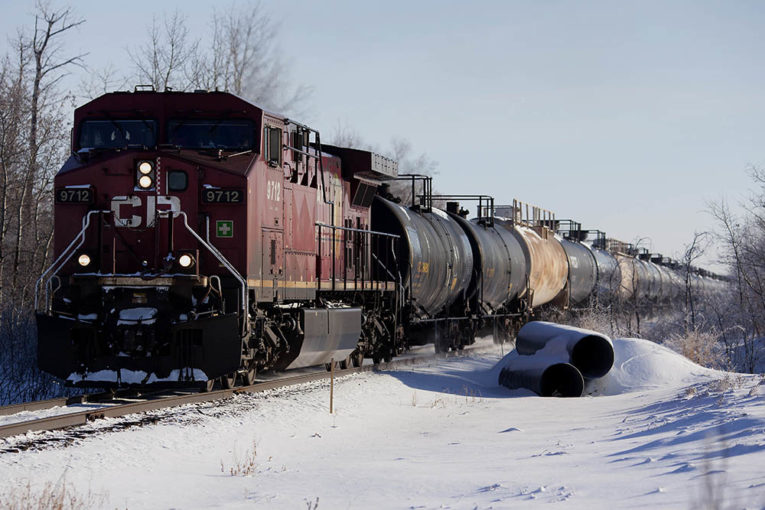 Crude-by-rail shippers are being asked to sign multi-year, take-or-pay contracts that guarantee minimum volumes before Canadian Pacific Railway will assign locomotives and crews to help move a backlog of oilsands crude out of Western Canada.
The railway wants its customers to have significant "skin in the game" before it commits to the costs involved in scaling up its oil-shipping capacity, chief financial officer Nadeem Velani told a CIBC World Markets conference webcast from Whistler, B.C., on Friday.
"What we're looking for, short-term, is to build in some commitments with customers to either commit a certain level of volumes or, you know, have a take-or-pay arrangement where they would pay damages if they didn't meet those volumes," he said.
While reporting its fourth-quarter results last week, CEO Keith Creel said CP Rail would only reluctantly add crude-by-rail volumes, fearing the business will end suddenly when new pipelines come on stream as early as 2020 because pipeline transport is generally less expensive.
Velani said CP Rail's oil shipments have "effectively doubled" from one year ago and conceded they could be higher if CP assigned more resources, adding it takes time and money to hire and train staff and reactivate locomotives from storage.
Cenovus Energy Inc. CEO Alex Pourbaix said he's confident Canadian railroads will get on board over the next few months to increase the movement of heavy oil.
"We are negotiating with both of the rail companies," he said at a conference session on Thursday, adding they are both seeking two-to-three-year commitments.
"At the end of the day, I think there is ample margin for both parties to come together and for rail to get an enhanced return and for the producers to get a much-enhanced netback."
Cenovus is expected to produce about 370,000 barrels per day of non-upgraded bitumen this year and has been hit hard by higher discounts being paid for Western Canadian Select crude, a blend of bitumen and lighter crudes, Pourbaix said.
Prices paid for WCS have failed to follow the rally in benchmark New York-traded West Texas Intermediate to three-year highs, in part because of pipeline capacity constraints out of Western Canada.
Pourbaix said Cenovus is looking to increase shipments from its crude-by-rail terminal near Edmonton. It was loading an average of about 11,000 barrels per day through the first nine months of 2017 but it has a rated capacity of 77,000 bpd and connections to CP Rail and Canadian National Railway Co. systems.
Earlier this week, CN Rail reported it had reduced its oil shipping by 30 per cent in the last three months of 2017 to assign more trains to move grain.
Chief marketing officer Jean-Jacques Ruest said on a conference call it is now offering Canadian crude shippers increased capacity in the second half of 2018 but with higher pricing than last year under take-or-pay contracts.
The National Energy Board estimates there is one million barrels per day of crude-by-rail transloading capacity in Canada. In October, the latest month for which statistics are available, about 136,000 bpd was moved by rail.
You can read more of the news on source