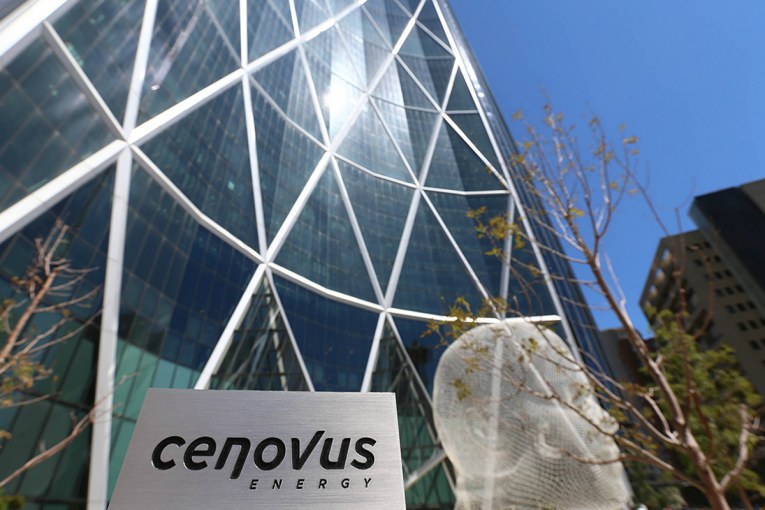 Cenovus Energy Inc. Chief Executive Officer Alex Pourbaix said the oil-sands producer will consider selling more of its holdings in Alberta's Deep Basin — but not exiting the play entirely — to speed up efforts to repair its balance sheet.
Pourbaix, who took the reins in November, has been cutting jobs, trimming expenses and working to sell more assets to pay down debt the company took on to fund its $13.3 billion acquisition of ConocoPhillips' oil-sands and Deep Basin holdings last year. Investors have panned the deal, which was struck by Pourbaix's predecessor, saying it saddled Cenovus with too much leverage at a time of uncertain oil prices and stuck it with Deep Basin drilling operations that fell outside of its expertise in the oil sands.
Cenovus has put up for sale a portion of the Deep Basin that produces about 16,500 barrels of oil equivalent a day, and Pourbaix said Thursday that the company will look to sell more because it can't develop all of the opportunities spread across the 3 million acres of holdings there in a reasonable time frame. But the company has not considered leaving the play entirely, he said.
"When the company made the decision to acquire the Deep Basin, it was because it offered a strategy of higher-return, short-cycle investment opportunities," Pourbaix said in an interview. "That continues to be a valid strategy for the company."
The comments came after the Calgary-based company posted fourth-quarter production of about 554,600 barrels of oil equivalent a day, in line with analysts' 554,000-barrel average estimate.
Yet the shares fell 5.3 percent to C$9.36 in Toronto, extending Cenovus's year-to-date decline to almost 19 percent, compared with an 10 percent drop for the S&P/TSX energy index.
Last year, Cenovus announced more than C$3.7 billion ($3 billion) in divestitures, helping it pay off a bridge loan that was used to fund the Conoco deal. And Pourbaix is cutting 500 to 700 jobs — about 15 percent of the company's workforce — to bring down its costs.
But investors may be looking for Cenovus to take more actions to decrease its leverage, Chris Cox, an analyst at Raymond James, said in a note. He rates the shares underperform, the equivalent of a sell.
"We struggle to see the stock garnering sustained interest from investors until management can deliver a more concrete plan to rectify this problem," Cox said.
Related: Last Oil Sands Mine Comes Online, Ending Era of Big Spending
Pourbaix, 52, succeeded Brian Ferguson, who was Cenovus's only CEO since its 2009 spinoff from Encana Corp. and was ousted amid investor dissatisfaction with the Conoco deal. Pourbaix previously was chief operating officer at TransCanada Corp. and brings a knowledge of the logistics of moving crude to market at an opportune time for the company. Increased production from Alberta's oil sands has strained a pipeline system that has been unable to expand much amid regulatory delays and opposition from environmentalists.
That pipeline pinch has caused Canadian crude to back up in storage, weighing on prices. Pourbaix said Cenovus is in active negotiations with two rail providers to ship more of its crude on trains and is seeking other ways to reduce its exposure to Western Canada Select's discount to West Texas Intermediate.
Cenovus isn't considering cutting its quarterly dividend, which has held steady at 5 cents a share for more than two years, because it wouldn't materially speed the debt reduction, and the company's payout track record helps its valuation, Pourbaix said.
"The plans that we've announced so far are going to get our debt down to a reasonable level over a reasonable period of time," Pourbaix said. "But I would say that I am continuing to look at opportunities to accelerate that."
Share This:
---
You can read more of the news on source