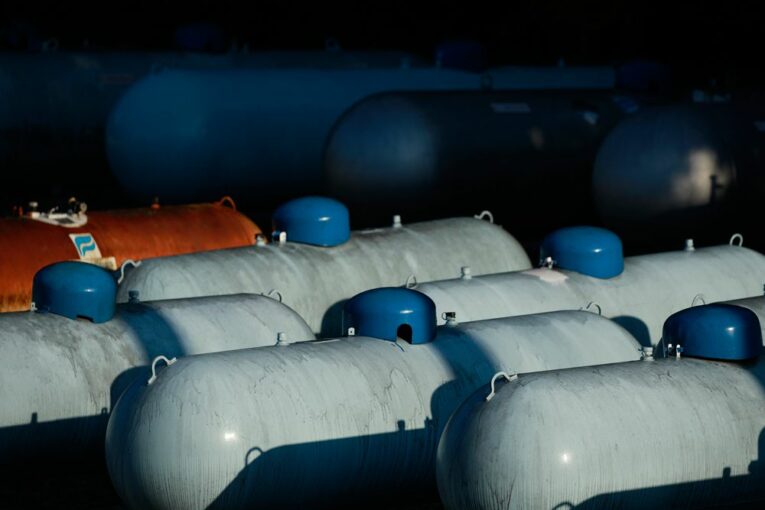 CALGARY — While all eyes have been on natural gas, propane prices have been skyrocketing too, thanks in large part to a huge export market for the heating source.
Propane, usually produced as a by-product or derivative of natural gas, has jumped in the past three months, with prices in Edmonton up 296 per cent to US$1.40 per gallon from roughly US$0.25 per gallon, according to ATB Capital Markets.
Across North America, price of the fuel, sometimes called a natural gas liquid, has risen faster than natural gas. Propane prices have recently hit a 7.5-year high and are on course for their strongest rally since 2009, according to Bloomberg. IHS Markit recently warned the U.S. propane market could face "Armageddon" this winter, as certain U.S. markets are expected to run short this winter.
The U.S. Energy Information Administration warned American consumers Oct. 13 they could face higher winter heating costs, led by an expected 54 per cent rise in propane heating costs, 43 per cent higher heating oil costs and 30 per cent higher natural gas heating costs.
"The higher global and domestic energy prices that are resulting from economies beginning to grow again are going to translate into larger household bills for energy this winter," EIA acting administrator Steve Nally said in a release .
The higher global and domestic energy prices … are going to translate into larger household bills for energy this winter

Steve Nally, EIA acting administrator
Propane inventories in the U.S. sat 21 per cent below the five-year average for storage in the middle of September, which Scotiabank noted was "concerning heading into winter."
To compound the problem, the bank noted rising propane exports from both Canada and the U.S. mean storage levels are 42 per cent below the five-year average when exports are considered.
Both natural gas and propane prices have languished in North America over the past 10 years, which has compelled producers to build massive export facilities to reach more lucrative markets in Asia and Europe, said Rory Johnston, managing director and market economist at Price Street in Toronto.
In the past 10 years, North American exports of propane have risen from 100,000 barrels per day to over 1 million. Natural gas exports have risen from zero to over 10 billion cubic feet per day from LNG facilities, and pipeline exports to Mexico have more than doubled from 3 billion cubic feet per day to 6.5 bcfd.
"Exports now make up a larger proportion of the total propane market, the total amount produced and distributed through the system, than is true for gas," Johnston said, adding that natural gas exports make up about 15 per cent of total North American demand, whereas propane exports make up closer to 60 per cent of North American production .
"Similar to natural gas, we're in a situation where prices for the arbitrage opportunity are so wide that you're going to keep exporting as much as you can," Johnston said, adding that it's cheaper to export propane through LPG terminals than gas through LNG terminals.
Canadian natural gas liquids pricing has jumped in the last three months, according to ATB Capital Markets. Propane has led the way, but butane prices and condensate prices have also posted sharp increases, of 218 per cent and 65 per cent, respectively.
"Notably, all three commodities are currently experiencing pricing highs well above their pre-pandemic levels," ATB analysts wrote in an Oct. 13 research note, adding the rising commodity prices would boost the fortunes of Calgary-based midstream companies.
The Edmonton-based bank's analysts said in a research note the strength in propane prices would provide a "tailwind" for Keyera Corp. and Pembina Pipeline Corp., both of which operate natural gas fractionators and have "significant exposure" to propane production.
And while Canada has yet to build a large-scale LNG export terminal, the country is already home to two liquid petroleum gas export terminals.
Both Pembina and AltaGas Ltd. operate LPG export terminals in Prince Rupert, British Columbia, where propane is exported to Asian markets for winter heating. Neither company responded to requests for comment on how rising prices had affected demand for cargoes at their LPG facilities on the West Coast.
Canada Energy Regulator data shows Pembina's facility can export 25,000 bpd of propane while the AltaGas terminal can handle 40,000 bpd.
Financial Post
• Email: [email protected] | Twitter: geoffreymorgan
_____________________________________________________________
 If you liked this story, sign up for more in the FP Energy newsletter.

______________________________________________________________
You can read more of the news on source