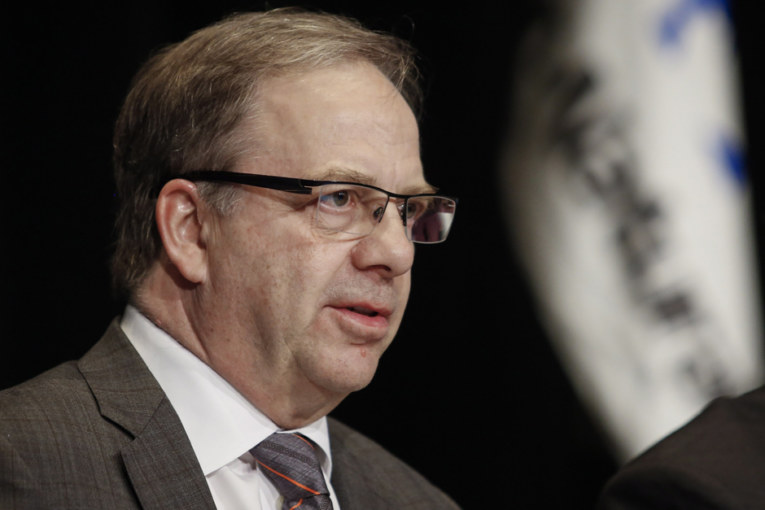 CALGARY – The largest oil and gas producer in Canada is reacting to deep discounts for domestic heavy oil and volatile natural gas producers by slowing drilling plans, even as its financial results improve.
Calgary-based Canadian Natural Resources Ltd., which produces over 1 million barrels of oil and gas per day, announced during an earnings call Thursday that it could substitute heavy oil drilling with light oil drilling, accelerate planned maintenance in the oilsands and drill just 17 natural gas wells this year amid challenges specific to the local energy industry.
"We expect them to return to normal in the next few months," the company's executive vice-chairman Steve Laut said in an interview of his company's plans to manage through the Canadian heavy oil discount.
Domestic oil prices have tumbled since TransCanada Corp.'s Keystone pipeline spilled oil in South Dakota and the line has been operating below full capacity since the incident at the end of 2017. The discount for Canadian heavy oil relative to U.S. light oil sat at $32 per barrel on Feb. 28.
Canadian Natural's move immediately drew praised from financial analysts. "I think that makes a ton of sense," said Edward Jones senior analyst Jennifer Rowland. "Why sell into that price environment?"
The company, which is also the largest natural gas producer in the country, also announced it would drill just 17 new natural gas wells over the course of 2018 due to the lack of pipelines for local natural gas, which fell into negative territory at times last year.
Pipeline operators TransCanada, Enbridge Inc. and Pembina Pipeline Corp. have all proposed expansions to their gas pipeline systems to send more Canadian gas out of Alberta, where Alberta benchmark AECO prices are severely discounted relative to U.S. prices.
Laut said the company was looking at all the pipeline options available, and the company had reduced its exposure to the AECO market.
Canadian Natural said it consumes approximately 32 per cent of the 1.6 billion cubic feet of gas it produces each day, sells 29 per cent of its gas outside of Alberta while around 39 per cent is exposed to prices in Alberta and B.C.
Despite the commodity price challenges, Edward Jones' Rowland said Canadian Natural is "sitting pretty" given its recent acquisition of the majority of Shell's oilsands business and its recent expansion of its Horizon oilsands mine.
She said the company is now generating so much cash after its expenses that it will be able to boost its dividend – which it did by 22 per cent Thursday – pay down debt and likely buy competing companies without concern. "These guys are going to generate just a ton of cash," Rowland said.
Similarly, National Bank Financial analyst Travis Wood said in a note Thursday that the company would generate $14 billion in free cash flow between now and the end of 2020.
Canadian Natural reported net earnings of $396 million in the fourth quarter, a 30 per cent drop on the $566 million it earned in the same period a year earlier largely as a result of deferred income taxes.
The company's revenues, meanwhile, were up 44 per cent to $5 billion in the fourth quarter, compared with roughly $3.5 billion a year earlier.
The improved financial results followed a broader oil price recovery over the course of last year, which also led to improved performances at other large Canadian producers.
Husky Energy Inc. reinstated a dividend Thursday as it posted $672 million in net earnings in the fourth quarter, which is a 260 per cent improvement over the $186 million it earned at the same time last year.
Crescent Point Energy Corp.'s posted a smaller net loss in the fourth quarter, of $56 million, compared with a net loss of $510 million during the same quarter last year.
Financial Post
• Email: [email protected] | Twitter: geoffreymorgan
You can read more of the news on source