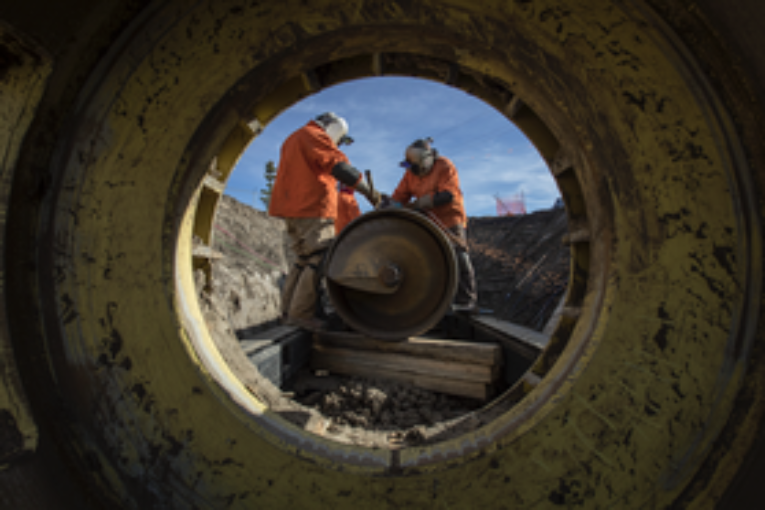 Nobody said pipelines would be easy. From the beginning, Canadian oil and natural gas transportation adapted to unpredictable supplies, rivals, critics, and approval authorities swayed by erratic public opinion and policy.
Obstacles cropped up decades before political and legal setbacks shook the Keystone XL and Trans Mountain projects. A blow that felt lethal to fossil fuel pioneers drove them to give June 18, 1954, a dark nickname: Black Friday.
The United States approval agency for Canadian export pipelines at the time, the Federal Power Commission, shelved the Calgary-based Westcoast Energy plan for a natural gas network spanning British Columbia, Alberta and the western U.S. The rejection followed four years of corporate maneuvering and regulatory reviews on both sides of the border.
Westcoast lacked energy security assurance for Americans, said the FPC: "All control over the production, allocation and transportation of natural gas to our border would be in the hands of agencies of foreign governments."
Supplies would be governed by Canadian authorities "whose primary interest would, of necessity, always be in the needs and advantages of their own people, and whose judgment and actions would be essentially dependent upon public opinion within that country rather than upon the interests of American consumers," predicted the FPC.
The project bounced back by forming an alliance with a Texas counterpart. The combination won U.S. approval for the line and built it swiftly. On Oct. 7, 1957, B.C. Premier W.A.C. Bennett officially started the gas flowing. "This is the greatest event for British Columbia since completion of the Canadian Pacific Railway united the province with the rest of Canada," Bennett told a valve-turning ceremony in Vancouver.
Oil taught the pipeline lessons of the Westcoast gas trauma earlier. Brace for trouble. Do not give up. Look for alternatives. Be patient.
Economic reality deflated visions, inspired by Turner Valley wells south of Calgary, of a route paved with black gold out of the 1930s Great Depression.
Boosters called for an oil network across Canada as far as Montreal and into the U.S. In March 1938 the Alberta legislature passed a resolution that urged a government takeover of petroleum product marketing to turn provincial resource ownership into public wealth.
The cabinet responded by appointing an inquiry, the Royal Commission on Petroleum led by Justice Alexander McGillivray. Events and expert testimony showed too little oil or money was at hand to make the dreams come true.
The inquiry found that reliable flows of 60,000 barrels per day were needed to support a long pipeline. The requirement was more than double the peak – 27,700 barrels daily – that Turner Valley only hit briefly in the Second World War. The provincial treasury fell short too. The Dirty '30s pushed Alberta into an unpopular political corner, temporarily collecting a retail sales tax as an emergency measure.
To sustain oil delivery tolls that would repay pipeline construction loans over a standard project finance term of 12 to 14 years, the inquiry calculated reserves of 263-306 million barrels were essential. The Turner Valley inventory was 100 million barrels.
The 1947 Leduc gusher south of Edmonton broke the volume barrier with a 329-million-barrel discovery. By 1951 serial drilling triumphs increased reserves to 1.2 billion barrels. In the industry's "conventional" era of tapping sponge-like subterranean pools with flowing wells, the total peaked at 10.5 billion barrels in 1970.
Rising supplies, postwar prosperity and popular desire for fossil fuel-based conveniences from cars to plastics ignited action. In Ottawa, Parliament passed a Pipe Lines Act in early 1949 to grant corporate charters to project sponsors. Construction followed swiftly.
By October 1950 Interprovincial Pipe Line (now Enbridge) carried 80,000 barrels daily, 1,860 kilometers to the western tip of Lake Superior in Wisconsin, where tankers sailed farther east. Traffic has since multiplied 36-fold to 2.9 million barrels per day on 27,388 kilometers of pipe in Canada and the U.S.
Trans Mountain Pipe Line started deliveries to the Vancouver area and the northwestern U.S. from Edmonton in August 1953 after speedy construction across formidable Alberta and B.C. mountains. The Korean War roused governments into enabling quick project approvals. The 1,150-kilometer oil conduit was rated as a strategic reduction of reliance on ocean tankers that made west coast supplies vulnerable to attack.
But the pipeline pace felt glacial in an industry notorious for increasing production faster than delivery service. Alberta Premier Ernest Manning sounded an anxious note that echoes in Canadian corridors of power to this day, during a 1958 appearance before the federal Royal Commission on Energy led by Toronto corporate lawyer Henry Borden.
"Producers could look forward to marketing in 1960 only approximately 49 per cent of the oil which could be produced under good engineering practice," said Manning, citing a forecast by provincial regulators. "Expansion of our market either into Quebec or further into the United States, or both, is a necessity."
Borden found a pipeline to Montreal was uneconomic but supported desire for an expert agency to supervise fossil fuel and electric power transmission. The then-Conservative federal government granted the wish by creating the National Energy Board in 1959.
Like oil, Canadian natural gas reserves leaped after the Leduc discovery, but longer and higher. The inventory in naturally flowing conventional deposits grew eight-fold to peak at 99 trillion cubic feet in 1985.
But gas pipelines hit a wall of supply protection. Projects ran into a legacy of Medicine Hat's growth into Alberta's third-largest city before the First World War on gas-fired manufacturing such as pottery and brick making. The British Empire's roving chronicler, Rudyard Kipling, expressed the prevailing attitude in 1907 by celebrating the city on a gas field as blessed with "all Hell for a basement." Regional pipelines introduced gas service to Lethbridge and Calgary in 1912, and to Edmonton in 1923.
Turner Valley gas flares, lighting up the night sky south of Calgary, heightened the protective mood by focusing attention on waste. The pillars of flame fostered creation of Alberta's energy conservation agency. A public inquiry recommended holding back a 50-year gas supply from out-of-province sales. A 30-year rule was adopted, and copied as a Canada-wide "surplus test" by federal controls on exports.
A supply collection cornerstone for national and export deliveries – Alberta Gas Trunk Line, eventually renamed Nova Gas Transmission Ltd. and bought by TransCanada Corp. – responded to the protective attitude. The corporate charter, enacted by the Alberta legislature in 1954, created a hybrid public-private enterprise with five ownership layers represented on the seven-seat board of directors: personal investors, gas utilities, exporters, producers, processors and two provincial cabinet appointees. The structure earned popular support. Albertans, granted first rights to buy AGTL stock in an initial public offering, snapped up eight million shares.
Saskatchewan made a direct response to public interest in gas by launching its pipeline grid as an arm of its Crown electricity company. Now known as TransGas, the web still operates as a government-owned section of the national and export network.
The cross-country gas service, TransCanada Pipe Lines, had a more painful birth and took until 1958 to complete, seven years after its legal incorporation. Private investors balked at financing construction because the gruff Liberal cabinet minister responsible for making the project possible, C.D. Howe, insisted on giving Canadians first call on their gas. He required the pipe to cross the Canadian Shield rock and subarctic forest of northern Ontario instead of taking a U.S. route of less resistance south of the Great Lakes.
The federal government stepped in to cover about half the costs. A Crown corporation was created to manage the Ontario leg and hired another federal Crown company, a defense contractor, to do the work. Tight deadlines that Howe set for enacting the legislative package in early 1956 caused tumult in Parliament. The uproar undermined the Liberal government and helped John Diefenbaker's Conservatives rise to power.
Soon after shipments began on the cross-country mainline, San Francisco-based Pacific Gas & Electric Co. succeeded in more quietly completing a pioneer Alberta-to-California export conduit that TransCanada eventually bought.
As soon as the key links were built, the western supply collection, national and export pipeline network accelerated Canadian gas traffic. With access to markets secured, national daily production jumped. The total surged from 460 million cubic feet in 1957 to 2.1 billion in 1962 and kept on climbing most years to a peak 17.4 billion in 2002.
The 1950s founding generation of Canadian pipelines sprouted additions while new entries also succeeded, driven by a growing fossil fuel industry that demanded ever wider market access.
On the oil side Express, Keystone, Access, Pembina, Inter Pipeline and Plains increased national and export deliveries, while also expanding the industry's geographical reach and slate of commodities and services. Natural gas traffic accelerated too, especially into the U.S., with construction of the Trans Quebec & Maritimes, Foothills, Alliance, and Maritimes & Northeast pipeline systems.
Pipeline network additions continue despite industrial deaths of the Mackenzie Gas Project, Northern Gateway and Energy East. Powerful drivers are at work. Global fossil fuel demand remains strong. Advancing oil sands methods and super-charged shale wells, using horizontal drilling and hydraulic fracturing, open up astronomical new reserves. Canadian producers seek to diversify their markets beyond North America.
Trans Mountain, under new federal government ownership, has embarked on completing its proposed expansion by filling in marine safety and native consultation gaps identified by an appeal court verdict that overturned the initial project approval.
Enbridge is making its biggest ever investment to restore deliveries of about 370,000 barrels per day by replacing an aging line across Canada and the U.S. for about $9 billion. TransCanada is preparing to start construction of 830,000-barrels-daily Keystone XL next year for $8 billion.
The industry was encouraged when LNG Canada triggered construction of $6.2-billion Coastal GasLink across B.C. by committing to build a liquefied natural gas terminal at Kitimat. "This decision is a significant step forward in ensuring Canada's ability to export responsibly produced Canadian energy to global markets and obtain a fair price for our resources," said Canadian Energy Pipeline Association president Chris Bloomer. "The project also represents a major investment in the Canadian economy, which is critical as our country seeks to attract and retain foreign capital."
You can read more of the news on source