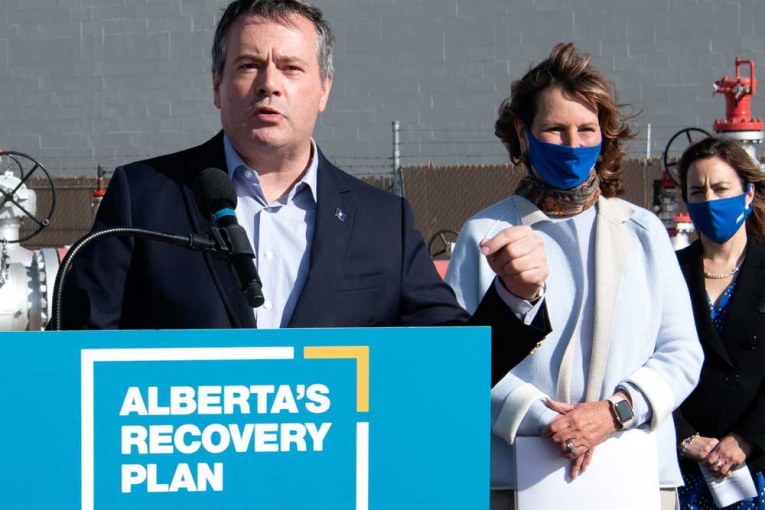 CALGARY — The federal and Alberta provincial government are set up for another fight over plans to label plastic as a toxic waste, which the plastics and chemistry industry says will deter investment in Alberta.
Canada's Environment and Climate Change Minister Jonathan Wilkinson announced Wednesday the federal government would draft regulations to ban six types of single-use plastic items , including plastic straws, stir sticks, take-out bags, cutlery, dishes and takeout containers and six-pack rings. The government intends to add plastics to a list of toxic items under the Canadian Environmental Protection Act, a designation that comes after a scientific assessment found plastics to be harmful. Designating them as toxic is a required step in order to ban the planned items.
"One important part of this plan is a ban on harmful single-use plastics," Environment and Climate Change Minister Jonathan Wilkinson said at a news conference Wednesday, in which he announced that regulations banning plastic cutlery, straws, six-pack rings and hard-to-recycle plates would be finalized by the end of 2021.
Wilkinson said those items would be banned because they are harmful for the environment, difficult to recycle and can be substituted with "readily available alternatives."
"We must ensure that we are moving towards circularity with respect to the large number of other plastic items we utilize in our day-to-day lives," Wilkinson said, adding the government wanted to encourage more plastic recycling.
The announcement comes just one day after Alberta's provincial government announced that part of its economy recovery plan would include a major focus on boosting petrochemical investment in the province. The plastics ban could potentially set up another showdown between Edmonton and Ottawa as petrochemicals are a building block for plastic.
Wilkinson downplayed the potential friction between the federal and Alberta provincial government Wednesday by saying that Alberta's recovery plan also includes a focus on plastics recycling. "Alberta's announcement yesterday aim to be a centre of excellence for recycling underlies precisely this opportunity," he said.
Still, the petrochemical industry and Alberta government are concerned about parts of the federal government's plan.
"They have to approach everything as do no harm," Alberta Energy Minister Sonya Savage said at a press conference Wednesday, noting that Alberta's economic recovery plan focuses on the "full life cycle approach for plastics, including recycling" but emphasized that plastics are used across the economy.
"We use it (plastics) in every single thing that we do, every minute of the day," she said, adding the province is prepared to fight Ottawa if the federal government's plastics strategy infringes on the province's constitutional responsibilities or economic recovery plan.
Ottawa's move to add "plastic manufactured items" to the Schedule 1 list of toxic substances under the Canada Environmental Protection Act (CEPA) will hurt Alberta's ambitions to become a top 10 petrochemical and plastics producer, Chemistry Industry Association of Canada (CIAC) president and CEO Bob Masterson said in an interview Wednesday. The provincial government is hoping that the petrochemical sector would generate more than $30 billion by 2030, create more than 90,000 direct and indirect jobs and generate more than $10 billion in revenue for the province in corporate and personal income taxes, and help the province offset the decline in oil and gas investments.
Masterson said Wilkinson's announcement did contain some positive news for the plastics industry, which supports more recycling investment and the goal of building "a circular economy for plastic" but he called the ban of specific items, such as plastic bags, arbitrary.
"Why does the government want to ban things that can and are being recycled?" Masterson said, adding the federal government is at the same time announcing investments in companies that recycle those same materials. "The inconsistency of that has to be seen to be frustrating to businesses."
The CIAC said in a release Wednesday that CEPA "is not an appropriate tool for managing post-consumer plastic waste" and said the federal government needs to develop national waste legislation to "support advancing a circular economy for plastics in Canada."
Alberta would introduce legislation this fall to create a regulatory framework for geothermal wells in the province, which are currently approved on a one-off basis, Savage said.
Geothermal energy companies could repurpose existing oil and gas wells to create clean, renewable power in the future and there are currently projects underway near Rocky Mountain House, Swan Hills and Grand Prairie, Alta, the minister said.
"Geothermal presents a real opportunity for Alberta's leading drillers to get back to work on a new business line," Canadian Oilwell Drilling Contractors president and CEO Mark Sholz said in a statement celebrating the new initiative.
The province has been focused on trying to get people back to work as the current unemployment rate was 11.8 per cent in August. Wednesday's geothermal announcement and Tuesday's announcement of a natural gas strategy and petrochemical plan were both aimed at finding new avenues for unemployed workers in the province to find jobs, and attract much needed investment.
• Email:
You can read more of the news on source