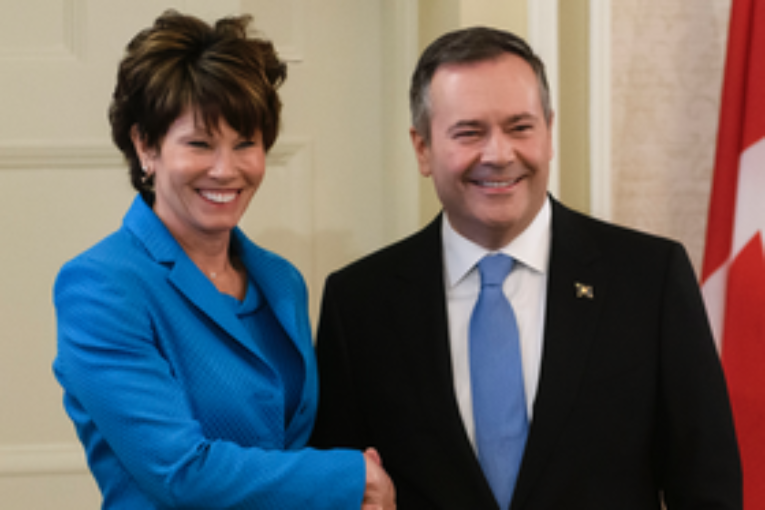 Former federal cabinet minister Jason Kenney was officially sworn in on Tuesday as Premier of Alberta and he repeated his campaign promise to bring renewed economic prosperity to the province.
"We will focus relentlessly on creating good jobs, growing the economy and building pipelines — west, east and south — to get our products to market," he said after the official ceremony at Government House in Edmonton.
"We have many more commitments to keep — 375 to be precise —and we are eager to get to work today."
The United Conservative leader becomes the 18th person to head the province's government.
Kenney has also taken on the role of intergovernment relations in what is expected to be a battle with the federal government over the carbon tax as well as proposed legislation that would ban heavy oil tankers on B.C.'s north coast, and legislation that would change how projects are environmentally assessed.
Here's a look at the cabinet ministers most closely tied to oil and gas operations and strategy.
Sonya Savage was elected as MLA for Calgary North-West on April 16, 2019.
She has a Masters of Law in Environment and Energy, with a published thesis on the National Energy Board. She has worked in the pipeline sector for the past 12 years and prior to the election was senior director of policy and regulatory affairs at the Canadian Energy Pipeline Association.
Prior to joining CEPA in 2015, Savage worked for nine years at Enbridge where she was responsible for government affairs and public policy. During her time at Enbridge, she worked on numerous pipeline projects, including Northern Gateway, Alberta Clipper and Line 9 pipelines. Prior to Enbridge, Sonya practiced law for 13 years.
Jason Nixon was elected to the Alberta Legislature on May 5, 2015, representing the constituency of Rimbey–Rocky Mountain House–Sundre.
He served on the negotiation team that created a framework that led to the establishment of the United Conservative Party in July 2017.
After the UCP's first leadership race, Nixon served as the Leader of the Official Opposition until Kenney won a seat in a by-election. He has held other notable positions in the Wildrose and UCP caucuses, including Official Opposition House Leader, Chief Opposition Whip, and Shadow Minister for Human Services.
Jason is the oldest son of Pat Nixon, the founder of one of Alberta's most respected not-for-profit organizations, The Mustard Seed. He spent over 25 years volunteering and working within The Mustard Seed community, serving as Executive Director between 2006 and 2011.
Tanya Fir was elected MLA for Calgary-Peigan on April 16, 2019. She was born in Cranbrook, B.C. and moved to Calgary in 1985.
Fir earned a Bachelor of Commerce with a concentration in Management of Organizations and Human Resources from the University of Calgary.
Prior to the election she worked as a human resources advisor in Alberta's oil and gas industry for over 19 years, most recently for Canadian Natural Resources Limited.
Rick Wilson was elected MLA for Maskwacîs-Wetaskawin on April 16, 2019.
He was born and lives on a family farm west of Wetaskiwin, and has held many community leadership roles including as county councillor with County of Wetaskiwin No. 10 (15 years), school board trustee with Wetaskiwin Regional Public Schools (5 years), chairman of Crossroads Regional Health Authority (7 years), and Agricultural Debt Review board member for Western Canada (6 years).
Travis Toews was elected MLA for Grande Prairie-Wapiti on April 16, 2019.
Born and raised on the family farm in the Beaverlodge area, Toews is a CPA and CMA who owns and manages both a cattle ranching operation and an oilfield environmental company with his wife Kim.
Dale Nally was elected MLA for Morinville-St. Albert on April 16, 2019.
According to his UCP party bio, Nally has decades of private sector experience managing and leading business units that generate between $50 million and $80 million in revenue.
He has a Masters Degree in Education.
Nally was previously a co-chair for Diversity Edmonton, a volunteer organization that worked with business to promote the hiring of people with disabilities.
Adapted from © 2019 The Canadian Press
You can read more of the news on source