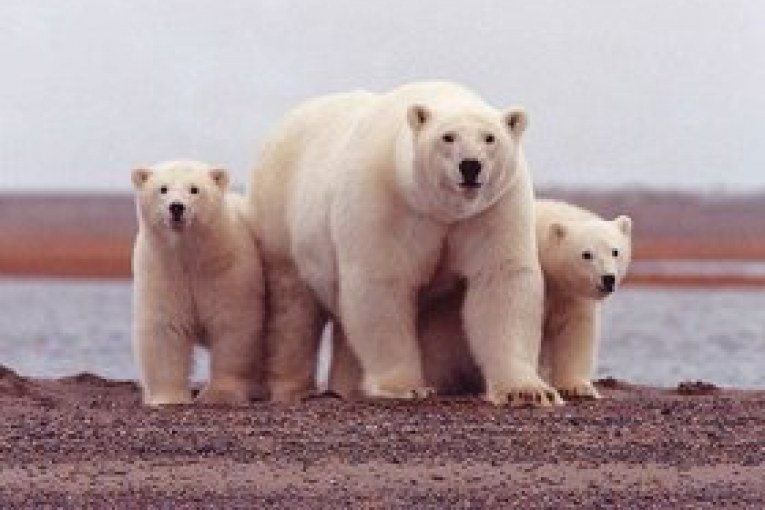 The technology used by oil companies to detect polar bears in snow-covered dens misses them more than half of time, according to a study published Thursday that stokes new concerns about the Trump administration's plan to sell drilling rights in Alaska's Arctic National Wildlife Refuge.
Some 55 per cent of known polar bear dens are being overlooked by industry-conducted infrared surveys, according to the study that analyzed 12 years of surveys and was published in the peer-reviewed scientific journal PLOS One.
The analysis underscores the risks of drilling and geologic surveys in the Arctic refuge's coastal plain, home to a shrinking population of polar bears as well as potentially billions of barrels of oil. Mother bears typically hunker down with new cubs in dens there from mid-winter to mid-April, with a blanket of snow making them essentially invisible.
Bears in undetected dens are vulnerable to noise and other disturbances from above including from heavy trucks used in seismic oil-seeking surveys that could roll over the snowy shelters, said Geoffrey York, one of the study authors and senior director of conservation for Polar Bears International.
"With large, heavy equipment running around," York said, there is "a risk of causing a female to prematurely leave her den or actually crushing her in her den running over the top of it."
The Interior Department isnearing a final decisionon auctioning drilling rights in the Arctic refuge, with a sale possible later this year. Congress ended a decades-long moratorium of oil drilling in the refuge's 1.56 million-acre coastal plain in 2017, when it ordered lease salesas a way toraise money that could offset tax cuts.
Since 2004, oil companies operating in northern Alaska have been searching out polar bear dens using aerial forward-looking infrared (or FLIR) surveys that spotlight hot spots on the snowy terrain. Successful den discoveries have led companies to curtail bridge traffic and shut down operations to protect the mother bears and their cubs.
However, the accuracy of FLIR survey technique is undermined when conducted in faster-moving planes instead of helicopters, when new snow has fallen, or when weather has warmed, according to the new study. Cracks in sea ice, exposed rocks and even abandoned steel drums can throw off false positives, the research says. Even the latest generation of FLIR imagers "will still struggle with the fundamental physics of detecting subsurface heating associated with dens in the presence of strong winds, direct solar radiation, falling or blowing snow, or too-deep snow overlaying the den," the study authors write.
The research compared data from aerial FLIR surveys in northern Alaska from 2004 to 2016 with data about known dens. Of 33 known dens, just 15 of them or 45 per cent were detected by the aerial surveys. At the same time, the study documented 19 false positives that prompted companies to take bear-protection steps such as restricting activity and conducting special monitoring.
The findings dovetail with aseparate new studyby Interior Department scientists that emphasizes the importance of careful planning and bear-detection efforts before geological surveys to limit disturbance to denning female polar bears and their cubs.
© 2020 Bloomberg L.P.
You can read more of the news on source