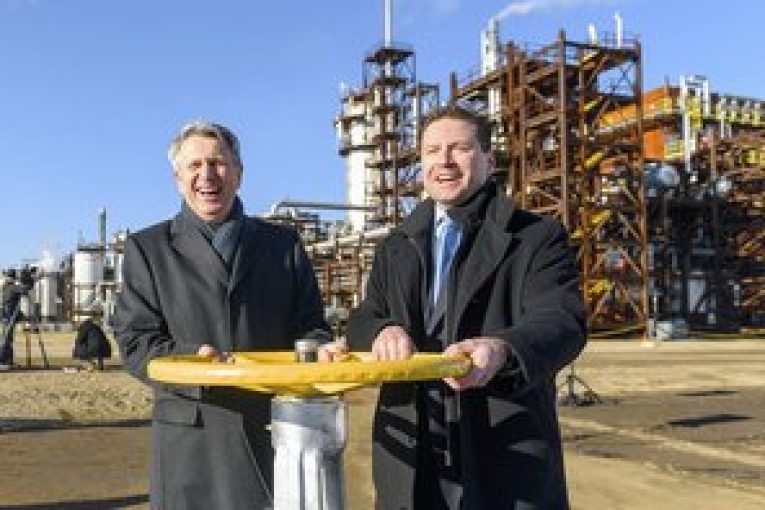 The Environmental Protection Agency just reversed course and delayed a ruling on requirements for lowering ozone standards by a year, likely to avoid legal action from environmentalists and public health groups.
This comes at a critical time, as seasonally adjusted concentrations of carbon dioxide (CO2) and other greenhouse gases in the earth's atmosphere have risen dramatically in the past half century.
The Trump administration's reluctance to address climate change will not stymie the pace of global investment in carbon capture, which has become a hot topic in the field of energy technology.
Carbon capture and sequestration (CCS) technologies enable the capture of CO2 from fuel combustion or industrial processes, CO2 transport via ships or pipelines, and its storage, typically in depleted oil and gas fields and deep saline formations.
According to KPMG, carbon dioxide has become a serious business liability, decreasing a firm's value by $212,000 for every 1,000 metric tons produced.
Despite a global drive toward renewable energy, fossil fuels will continue to meet the world's energy demands for the foreseeable future, meaning the advancements in CCS technology will continue.
Together with capturing carbon from fossil fuels, companies are employing "negative emissions" — abatement technolo­gies used in renewable biomass, which effectively take carbon out of the atmosphere as a means of stopping the long-term buildup of greenhouse gases.
These systems have struggled to gain wide-scale adoption over the past 10 years, despite receiving billions of dollars in government subsidies, and many have not yet been deployed at scale due to the cost of energy required to sequester the carbon.
Yet a new generation of CCS projects has emerged, which is an encouraging sign for the industry. Energy service provider Halliburton believes that of all the methods currently being tested and evaluated for commercial use, CCS is widely considered to be the most practical and effective.
Through innovative technologies, startups are aiming to make CCS both operable and profitable. Global Thermostat employs low-cost leftover process heat to capture carbon from power plants and sell it back to companies like cement smelters and refineries for use as a power source.
CO2 Solutions capitalizes on a natural enzyme existing in all living organisms to efficiently manage carbon dioxide during respiration, without the need for high-grade process heat.
British Columbia-based Carbon Engineering is working on direct-air capture plants that commercially suck carbon dioxide from the air, producing a liquid which can be sold for in industrial applications or as transportation fuel. Finally, Swiss firm Climeworks compresses captured CO2 for use as crop fertilizer in greenhouses.
The big energy and exploration companies are jumping on board as well in efforts to cut costs and enhance their sustainability efforts. Shell has several global pilot projects, including Quest, the world's largest project in Alberta, Canada.
The partnership between Shell, Canadian Natural Resources and Chevron is the first commercial application of CCS in the oilsands industry. Chevron, along with partners Shell and ExxonMobil, is leading a project at the Gorgon gas fields off the Western Australia coast, where natural gas travels through undersea pipelines to a liquefied natural gas plant.
Naturally occurring CO2 is captured and injected into a deep sandstone formation around 1.5 miles beneath nearby Barrow Island. And NRG Energy partnered with JX Nippon Oil & Gas Exploration to develop a post-combustion project at the WA Parish generating station in Texas, the largest project of its kind installed on an existing coal-fueled power plant.
While coal in the developed world is gradually being phased out, the technology could be deployed in emerging markets. Much of the growth in emissions is attributed to developing nations outside the Organization for Economic Cooperation and Development, many of which continue to rely heavily on fossil fuels to meet the fast-paced growth of energy demand.
Even while carbon has been transported and stored for decades, time is unfortunately not on our side. According to the International Energy Administration, CCS contributes just one-sixth of total emission reductions required in 2050 and 14 percent of the cumulative emissions reductions against a business-as-usual scenario.
High costs as well as controversy over certain methods continue to surface, such as planting new forests and forcing large-scale changes to land usage, possibly displacing people and their farms.
Yet, research shows that atmospheric carbon dioxide concentrations will increase to the point that 2 degrees Celsius (3.6 degrees Fahrenheit) of global warming will be inevitable within the next 22 years, a level scientist deem dangerous.
There are currently 22 projects in operation or construction worldwide. China recently announced the beginning of construction of the nation's first large-scale CCS project in Shaanxi Province. U.S. Department of Energy Secretary Rick Perry stated that one cannot have a real conversation about clean energy without including CCS, and that the U.S. understands the importance of this clean technology and its vital role in energy production.
The technology holds enormous potential to facilitate economic growth. Despite recent U.S. environmental setbacks, consider it a window of opportunity for investment.
Shelley Goldberg is an investment adviser and environmental sustainability consultant. She has worked as a commodities strategist for Brevan Howard Asset Management and Roubini Global Economics.
This column does not necessarily reflect the opinion of the editorial board or Bloomberg LP and its owners.
© 2017 Bloomberg L.P
You can read more of the news on source