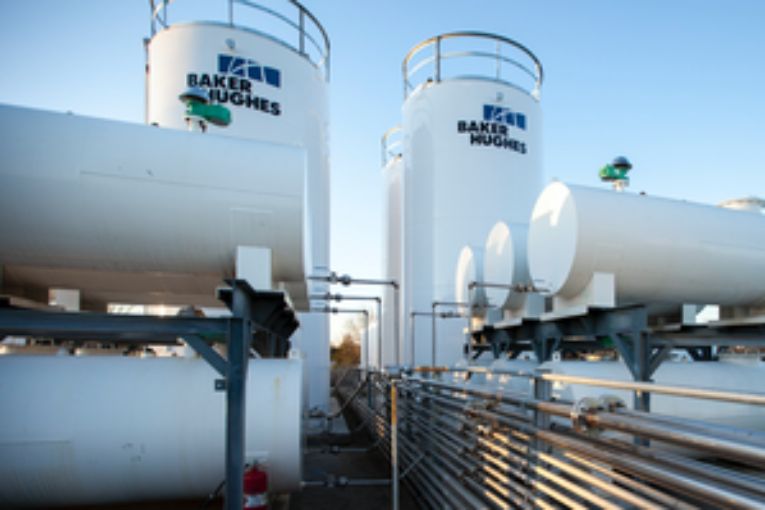 Baker Hughes is beginning to talk about a world beyond hydrocarbons.
The third-biggest oil services provider says it's looking at expanding into wind and solar to prepare for a world that will be far less dependent on hydrocarbons by 2050.
And while investors are probably more focused right now on the company's fourth-quarter earnings report on Thursday, the Houston-based company said it's not too early to ponder its future three decades in the making.
"This is the start of a tipping point," Chief Technology Officer Derek Mathieson said in an interview earlier this week in Florence, where the company hosted a conference. "If we want to stay relevant we have to change not only our message, the brand of who we are, but what we actually do and what we deliver."
Baker Hughes examined forecasts from oil companies and advisory groups on what the energy mix will be in 2040 and realized that by then, non-fossil fuels could account for as much as 45 percent of all energy demand, Mathieson said. The trajectory means Baker Hughes would only be able to grow its hydrocarbon service and supply business slightly, presuming it lost no market share to larger rivals such as Schlumberger Ltd. and Halliburton Co.
To be sure, Baker Hughes still expects anywhere from 55 to 80 percent of its business through 2040 to still be what it is today. Mathieson said he can't see any way that the hydrocarbon industry is completely gone by then.
"Maybe another 100 years in the future, that's true," he said. "We can't lose the grassroots momentum on what we're actually good at but I do think the whole sector is trying to re-invent itself on what we're going to be more relevant on the energy stage."
While some of the world's biggest oil explorers have finally begun to address the issue of climate change and how they'll adapt, Baker Hughes and its peers — the hired hands of the oil patch — have until now largely stayed out of the public debate. That may be changing. Baker Hughes said earlier this week it aims to eliminate carbon emissions on a net basis by 2050.
In the here and now, investors are waiting for a recovery in the services sector as oil and gas companies remain cautious about spending. Earnings and share prices have yet to fully rebound from the crude crash that started in the middle of 2014, even though oil prices have bounced back.
"Baker Hughes shareholders care about cash-flow generation now," James West, an analyst at Evercore ISI in New York, said in a phone interview. "They don't care about 2050."
Mathieson said Baker Hughes, which merged with the oil and gas business of General Electric Co. in 2017, is following the lead of its customers, who are increasingly demanding new services to achieve their own low-carbon targets. Rather than build a windmill or installing a solar panel, he sees the value for Baker Hughes in the "ecosystems" around those businesses, such as installing sensors or measurement-and-control systems.
"My head is in this energy innovation space rather than just being oil and gas services," Mathieson said.
© 2019 Bloomberg L.P
You can read more of the news on source